Part-Time Lecturer Engineering, Johns Hopkins University,Baltimore, MD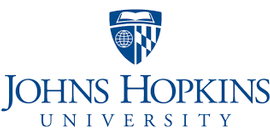 The Engineering for Professionals division of the Whiting School of Engineering at Johns Hopkins University seeks applicants for online, part-time lecturer positions housed in 20 different master's degree programs. All lecturers are responsible for the delivery of online courses (administered either asynchronously or synchronously) to part-time professional master's degree candidates. Grading support is provided to all instructors of large courses.
Applicants are sought for part-time lecturers in the following degree programs:
Applied Biomedical Engineering
Applied and Computational Mathematics
Applied Physics
Artificial Intelligence
Civil Engineering
Computer Science
Cybersecurity
Data Science
Electrical and Computer Engineering
Engineering Management
Environmental Engineering
Environmental Engineering and Science
Environmental Planning and Management
Financial Mathematics
Healthcare Systems Engineering
Information Systems Engineering
Materials Science and Engineering
Mechanical Engineering
Space Systems Engineering
Systems Engineering
The highly-ranked online programs at Johns Hopkins Engineering for Professionals combine the rigor of traditional Johns Hopkins programs with practical application in the fields of engineering, applied sciences, business, and government. Instructors impart cutting-edge knowledge and real-world skills in collaborative, interactive learning environments, providing students with a unique opportunity to forge lasting professional connections as they work, study, and maintain a manageable work-life balance. Expand your skills and experience as a professional, network with students and colleagues in your field, and be part of a forward-thinking, innovative academic community.
Instructors will be expected to familiarize themselves with existing course materials, grade assessments, and interact with students by holding weekly office hours, answering student questions, and participating in online discussions. [NOTE: Instructors of asynchronous courses will likely have no synchronous responsibility in the course other than office hours.] Instructors may also be asked to develop online course materials with support from the Whiting School's instructional design and instructional technology staff. Orientation to online course instruction will be provided. Compensation is at the high end of the typical online course instructor pay scale.
QualificationsA master's degree and industry experience are required; a doctoral degree and instructor experience are strongly preferred. Candidates with experience working with professionals from diverse backgrounds/industries are strongly encouraged to apply. We seek applicants who bring unique perspectives/experiences and will contribute to the diversity and excellence of our academic/professional community. Due to the online delivery modality, remote location is possible. Remote candidates should pay careful attention to the "preferred location" question on the application.
Application InstructionsApplicants must provide a CV or resume and a Statement of Interest that includes the applicant's areas of expertise. The applicant should provide a list of all prior courses taught and a list of all JHU EP courses the applicant is qualified to teach. And applicants have the option to upload student evaluations from up to four courses taught by the applicant (if available), a list of references, and any other documents in support of their candidacy. All applications will be evaluated on a rolling basis.
Johns Hopkins University is an equal opportunity employer and does not discriminate on the basis of race, color, gender, religion, age, sexual orientation, national or ethnic origin, disability, marital status, veteran status, or any other occupationally irrelevant criteria. The university promotes affirmative action for minorities, women, disabled persons, and veterans.