Faculty, Peabody Children's Chorus (Part-Time), Johns Hopkins University, Baltimore, MD
Application Due: Open Until Filled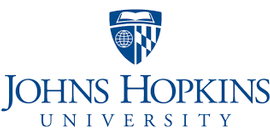 The Peabody Children's Chorus is seeking applications for a part-time faculty member to teach Chorus Prep classes.
The Peabody Children's Chorus includes eleven rehearsing ensembles and four Chorus Prep classes at two campuses. We are searching for a teacher who will support the vocal growth of 5-9 year-olds,  and nurture each child's love of music through singing games and skill-based learning.
Additional opportunities for expanding the Chorus Prep program may be available.
Teaching Responsibilities (1.5-3 hours per week)
Faculty member works independently to:
teach weekly Chorus Prep Classes
select material of high musical quality and educational value that is age-appropriate for each class
plan sequential curriculum including music reading, and vocal warm-ups
Teaching Schedule (possible to teach at one or both campuses)
Mondays, Howard County (Garden Presbyterian Church)
Arioso (ages 5-6) 4:45-5:30 pm
Vocalise (ages 7-9) 5:30-6:15 pm
AND/OR
Tuesdays, Towson (Towson Presbyterian Church)
Arioso (ages 5-6) 4:45-5:30 pm
Vocalise (ages 7-9) 5:30-6:15 pm
Administrative Responsibilities
Faculty member:
holds orientations for students and their parents
writes progress reports and make recommendations about annual placement of students
Qualifications
Bachelor of Arts (required) from an accredited institution
minimum of three years' experience teaching children
dynamic understanding of the young voice and movable-do solfège
Application InstructionsPlease submit:
cover letter
c.v.
optional:  teaching video
Johns Hopkins University is an equal opportunity employer and does not discriminate on the basis of race, color, gender, religion, age, sexual orientation, national or ethnic origin, disability, marital status, veteran status, or any other occupationally irrelevant criteria. The university promotes affirmative action for minorities, women, disabled persons, and veterans.