Adjunct Faculty in Music, 12-Month Contract, University of St. Thomas, St. Paul, MN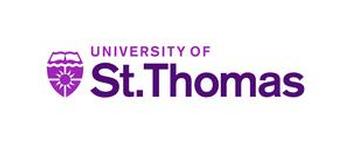 Number of Openings: 1
Closing Date: Application Deadline: July 15, 2022.
Type of Search: Faculty
Who May Apply: This position is open to all qualified applicants.
Position Number: 2022-6253
Campus: Minneapolis
Department/Unit: Dougherty Family College
Employment Type: Adjunct Faculty
FLSA Status: Exempt/Salaried
Benefits Eligible: No
OVERVIEW
THE UNIVERSITY
Established in 1885, the University of St. Thomas is located in the major metropolitan area of Minneapolis-St. Paul, and is Minnesota's largest private university. Its 10,000 students pursue degrees in a wide range of liberal arts, professional, and graduate program.
As a community, the University of St. Thomas is committed to:
Pursuit of truth - We value intellectual inquiry as a life-long habit, the unfettered and impartial pursuit of truth in all its forms, the integration of knowledge across disciplines, and the imaginative and creative exploration of new ideas.
Academic excellence - We create a culture among faculty, students and staff that recognizes the power of ideas and rewards rigorous thinking.
Faith and reason - We actively engage Catholic intellectual tradition, which values the fundamental compatibility of faith and reason and fosters meaningful dialogue directed toward the flourishing of human culture.
Dignity - We respect the dignity of each person and value the unique contributions that each brings to the greater mosaic of the university community.
Diversity - We strive to create a vibrant diverse community in which, together, we work for a more just and inclusive society.
Personal attention - We foster a caring culture that supports the well-being of each member.
Gratitude - We celebrate the achievements of all members of our community in goals attained and obstacles overcome, and in all things give praise to God.
THE OPPORTUNITY
The University of St. Thomas invites applications for a 12-month adjunct faculty position in Music at the Dougherty Family College.  Faculty will teach 100-level Music courses in-person (e.g., Understanding Music and Culture). We seek colleagues with a record of success in teaching Music courses, expertise in culturally responsive pedagogy, and a commitment to diversity and inclusion. Teaching load includes six courses (various times) per year, three courses fall 2022 and three courses spring 2023 (starting August 1, 2022).
The successful candidate should be available to teach the following three cohorts in Fall 2022.
Cohort 7- Wednesdays 9:00 am-11:00 am & Fridays 9:00 am-11:00 am 
Cohort 8- Wednesdays 1:00 pm- 3:00 pm & Fridays 1:00 pm-3:00 pm
Cohort 9- Mondays 9:00 am- 11:00 am & Thursdays 9:00 am-11:00 am
The successful candidate will teach 3 courses in Spring 2023 (dates and times TBD).
This is a 12-month adjunct non-tenure track, renewable position. The compensation range is $35,400-$36,600 a year (depending on education and experience) plus health benefits.  The successful candidate will teach online courses during January and summer (additional compensation is given for online courses).
QUALIFICATIONS
PROFESSIONAL EXPERIENCE/QUALIFICATIONS/EDUCATION
We seek candidates who recognize the value of high expectations, student-teacher relationships, and home-school-community connections for students' academic achievement. Competitive candidates will demonstrate how their teaching record fosters successful learning communities reflective of their students' diverse cultures. Candidates will also demonstrate how their teaching has prompted students to make use of their culturally embedded knowledge, resulting in meaningful learning that affirms their students' social identities and connections while promoting high academic performance.
Successful candidates will have a background in critical and/or culturally responsive pedagogies and recognize their own cultural experiences, identities, manifestation of privilege, and the dynamics these evoke in and outside of the classroom. Candidates will embrace self-reflection, value excellence through educational equity, and demonstrate a commitment to ongoing culturally responsive learning in a collaborative, collegial environment.
Required Master's degree in Music or closely related discipline. Candidates with at least one year of college teaching experience (community college teaching experience a plus) are strongly encouraged to apply.
EQUAL EMPLOYMENT OPPORTUNITY
The University of St. Thomas embraces diversity, inclusion, and equal opportunity for all. Our convictions of dignity, diversity and personal attention call us to embody and champion a diverse, equitable and inclusive environment.  We welcome applicants of diverse races, ethnicities, geographic origins, gender identities, ages, socioeconomic backgrounds, sexual orientations, religions, work experience, physical and intellectual abilities, and financial means. We are committed to building a team that represents a variety of backgrounds, perspectives, and skills. This commitment is consistent with our mission to inspire our students, using the Catholic intellectual tradition, to think critically, work skillfully, and act wisely - all for the common good.  A successful candidate will possess a commitment to the ideals of this mission.
TO APPLY
Application Deadline: July 15, 2022. Applications should be submitted online at https://jobs.stthomas.edu and include the following: cover letter; CV that includes at least three references who can specifically address the candidate's teaching experience; a one-page statement that presents the candidate's philosophy of developing and leading initiatives to support a culturally responsive curriculum (discuss culturally responsive pedagogy in statement); and evidence of teaching excellence with underserved students (e.g., student feedback on your teaching).