Adjunct Faculty, Interior Design, College of DuPage, Glen Ellyn, IL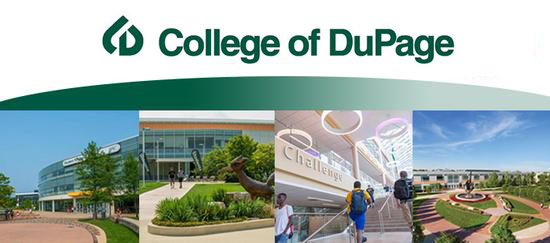 Department: Interior Design - INTER
Overview:College of DuPage believes in the power of teaching and learning. COD faculty are committed to facilitate and support student success in learning. We strive to meet the individual educational needs of our unique, multicultural campus.
The successful adjunct candidate will be committed to teaching in a multicultural environment and welcome the opportunity to work with students with diverse learning abilities. We encourage applications from candidates who reflect the increasing diversity of COD's student body and community.
Opportunities may exist to teach a flexible schedule that may include teaching assignments during days, evenings and weekends.
We invite you to join our team and apply your passion for teaching and learning!
Description:Adjunct Faculty instructors at College of DuPage are responsible for course planning and instruction in classroom, lab, or clinical settings, courses may be conducted in various delivery modes, such as, face-to-face, on-line, hybrid and/or blended formats. In addition, adjunct faculty are responsible for student evaluation, and timely and accurate submission of required paperwork related to instruction.
The work of our Adjunct Faculty will include, but is not limited to:
Teaching Interior Design curriculum, including classes such as: Introduction to Interior Design, Lighting I and II, Interior Systems and Details, Contract Design, Residential Design, Sustainable Design and Visualization Techniques.
Responsibilities include syllabus and class preparation, instruction during scheduled course time, providing reasonable availability to students for consultation and assistance with respect to assigned course(s), evaluation of student performance, and submission of grades Blackboard LMS.
Excellent written and oral communication skills with the ability to present complex material to students unfamiliar with a subject.
Duties and Responsibilities:
Instructional duties and assignments may consist of one or more of the following:
Provide instruction for assigned courses, including preparation for in-class or on-line/distance education activities.
Provide reasonable availability to students for consultation and assistance with respect to assigned courses.
Assess and evaluate student learning and provide formative feedback throughout the course.
Maintain accurate class and other records required by the college.
Submit, when due, attendance rosters and grade reports.
Follow course outlines as provided.
Provide each student with a written course syllabus at the beginning of the course.
Maintain effective communication with students and colleagues.
Work collaboratively with faculty, students and staff throughout the college.
Qualifications:The ideal candidate has demonstrated professional design experience and is ready to mentor students who will be the next wave of the interior design profession. The candidate should be able to motivate students of diverse backgrounds to think creatively and critically and must have knowledge of and experience with current and emerging industry software and technologies. The modality of this instruction may be in-person or on-line/distance learning depending on the course. (Adjunct faculty can teach one to three classes per Fall and Spring Semester.)
Qualifications
Minimum of a Bachelor's degree in Interior Design or Architecture and/or a combination of equivalent educational and professional industry experience is required.
Strong skills in technical software and core competencies of interior design practice.
Expertise in standard architectural drawing conventions.
Knowledge of codes in the built environment.
Experience with computer-aided drafting programs like Revit, SketchUp and AutoCAD; willingness and ability to stay current with industry trends in software applications is a plus.
A commitment to working with a diverse population of students is essential; demonstrated experience in this area is preferred.
Demonstrated success and/or aptitude for remote, hybrid, and face-to-face instruction.
Preferred Qualifications
Teaching experience and NCIDQ Certification is preferred.
Involvement with professional organizations such as IIDA, ASID or NKBA
Holds credentials such as LEED, WELL or FitWel.
(Ability to teach remotely with technology and experience in online or virtual teaching preferred. Access to personal technology, home computer with appropriate ability to teach online required.)
Additional Information:College of DuPage does not discriminate against individuals in employment opportunities, programs and/or activities on the basis of race, color, religion, gender, sexual orientation, age, national origin, ancestry, veterans' status, marital status, disability, military status, unfavorable discharge from military service, or on any other basis protected by law.
To apply please submit your electronic application, unofficial transcripts, a cover letter including a list of three references, a statement of teaching philosophy, and current curriculum vita.
A pre-employment background check at the Colleges' expense is required.